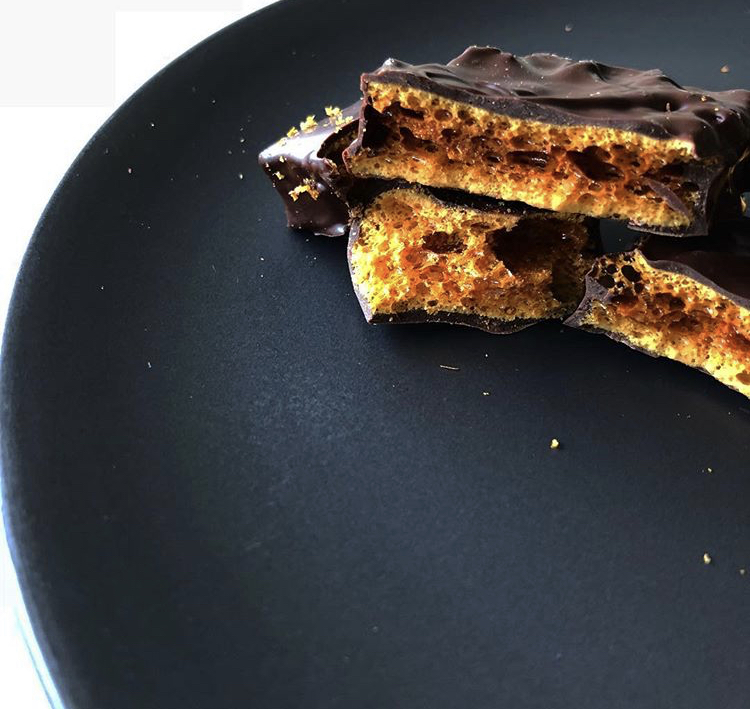 Honeycomb
Shards of golden Honeycomb covered in 70% Zokoko Chocolate
Our Honeycomb is taken to a dark caramel before we set it, break it and coat in gorgeous dark chocolate. Our Honeycomb is completely vegan, dairy-free, soy-free, gluten-free and refined sugar-free.
While stocks last.
Store in a cool dry place, do not refrigerate. Our chocolates are best enjoyed at room temperature. Storing below 5 degrees C will cause condensation which will affect the appearance of your chocolates.
Ingredients; chocolate (cocoa mass, raw cane sugar, cocoa butter, emulsifier: sunflower lecithin, vanilla beans), raw organic cane sugar, organic rice syrup, sea bicarb soda, lemon juice.
If you have any anaphylactic allergies, we recommend you do not consume our products. We cannot guarantee our suppliers do not handle allergens at their production sites. Our products contain the following allergens: sunflower, peanut, nuts and sesame. Please see our full list of ingredients above.
Shipping: we use Australia Post Express for our shipping, you will receive a tracking order with your order. Orders received after 2pm will be shipped out the following business day. We ship Monday-Thursday for delivery Tuesday-Friday. We do not ship on public holidays. We ship our chocolate with reusable cool packs and an insulation layer in warmer weather to make sure they reach you at the perfect temperature. Beyond this we cannot be held responsible.
If you receive your order and it is not in good condition please notify info@meditachocolates.com as soon as possible. We want to make sure you are satisfied and happy. Please choose carefully as due to the perishable nature of this product we cannot offer exchange or refunds. Cancellations are only possible if your order has not yet been shipped.
Hot weather policy: in cases of extreme heat or conditions outside of our control we may hold, delay or cancel your order and issue you with a refund. If this occurs we will contact you with as soon as possible.